Times Square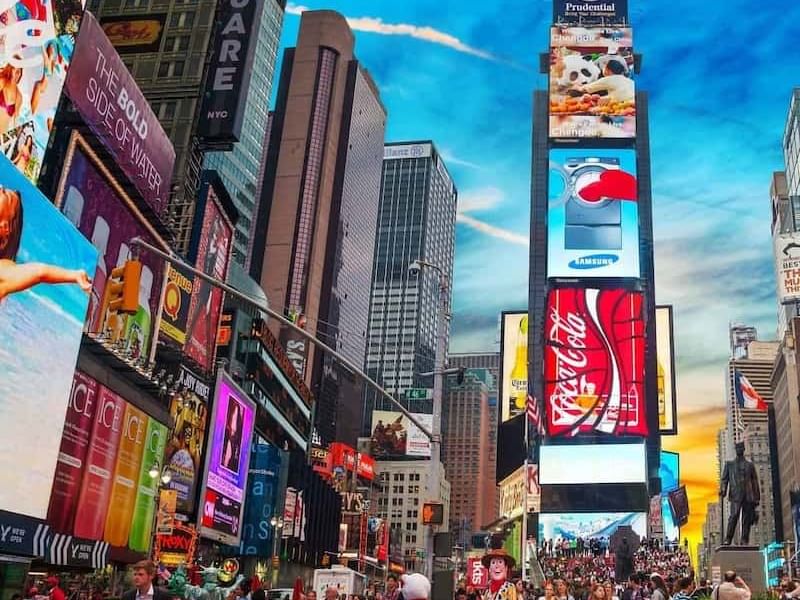 Times Square is an iconic cultural landmark that truly encapsulates the spirit of the city that never sleeps. Bright lights, towering billboards, and bustling crowds create a mesmerizing spectacle that is sure to leave a lasting impression. Marvel at the iconic New Year's Eve Ball Drop, where millions gather to celebrate the countdown to a new year in a dazzling display of lights and music.
One of the main attractions of Times Square is its incredible entertainment options. From Broadway shows to live music performances, this district offers a multitude of opportunities to experience the vibrant arts and culture scene of New York City. Catch a dazzling musical or immerse yourself in the drama of a Tony Award-winning play for an unforgettable night of theatrical brilliance.
Times Square is also a haven for shopaholics and food enthusiasts alike. Explore world-class flagship stores, discover unique boutiques, and indulge in a culinary adventure at renowned restaurants and cafes. From high-end fashion labels to delicious street food, there is something to cater to every taste and style.
For our hotel guests, Times Square offers not only an exciting destination but also convenient access to other iconic attractions in New York City. Take a leisurely stroll to Central Park, visit the renowned Museum of Modern Art (MoMA), or explore the vibrant neighborhoods of Chelsea and Hell's Kitchen nearby. With our hotel's prime location, you'll be at the center of it all.
Travel Tips:
To fully experience the magic of Times Square, visit during the evening when the dazzling lights are in full display, creating a truly mesmerizing atmosphere.
Take advantage of the pedestrian-only zones to explore the area comfortably and safely.
Plan ahead and book tickets for Broadway shows in advance to secure your spot at the most sought-after performances.
If you're looking for a unique perspective, consider visiting the rooftop bars in Times Square that offer stunning views of the iconic surroundings.
Embrace the vibrant charm of Times Square during your stay in New York City. With its captivating energy, diverse entertainment options, and unbeatable location, it's an experience you won't want to miss. Let the allure of this iconic destination envelop you as you create unforgettable memories in the heart of the Big Apple.
Manhattan, NY 10036, USA 10036 New York United States