Reviews of the Empire Hotel NYC
Read what Guests have to say about their stay at the Empire Hotel
Plan your stay in New York City's Upper West Side by reading what previous guests have to say about their time at the Empire Hotel. Our hotel has been providing premium boutique style hospitality service to visitors from all over the world for over 100 years now. Find out why guests love staying at the Empire Hotel by reading reviews, and plan your own experience at our property. We look forward to welcoming you!
A wonderful hotel to stay in - the staff was extremely helpful. We were given a corner room which was very spacious and comfortable. The location is perfect - across from Lincoln Center, a variety of restaurants, near Central Park and Columbus Circle. The rooftop bar was fun, the valet parking was easy and the front desk was very accommodating. Highly recommend!
Everytime I stay at The Empire Hotel in NYC, the service, hospitality and everything is outstanding. They go above and beyond to make sure their guests are comfortable, relaxed and enjoy their stay. The entire staff is excellent. I will continue to be a frequent guest at The Empire Hotel.
Just back from another stay at the Empire. This time, we had a Junior Suite. It was very spacious with nice views. We've been staying at the Empire for several years now and highly recommend it. The location is perfect — across from Lincoln Center. There is also a TKTS booth just steps away to get theater tickets. Also, a good selection of restaurants and Central Park is just a block away.
Really a fantastic boutique hotel perfectly located across from Lincoln Center and half way between Midtown and Upper West Side. Everything is within walking distance or short bus ride on Broadway, Columbus or Central Park South. Next to Central Park as well. Staff was competent, responsive and friendly. Rooms are a little small but that is true of most Boutique hotels. Paying a little extra for the view is worth it as it opens up the feel of the room. It has a magnificent roof top restaurant bar with spectacular views and a pool. No complaints. I have been staying there for years and it has never let me down.
A 5-night stay over the Christmas holidays was made easy and effortlessly by the staff at The Empire! Clean, courteous and quiet…just the place I needed to unwind from the busy city surrounding this lovely and quaint hotel. My room was clean and fresh. I don't require housekeeping daily so my do not disturb sign was respected and I did not have any interruptions when in my room (or when I was out). The staff was helpful, especially when I left my key in my room! Helping me navigate the subway as well as general hospitality, the entire staff made my stay very enjoyable
We just stayed in this hotel and it was fantastic. The staff were so nice and helpful. The location and quality of the room were first rate. I would highly recommend this hotel to anyone. We visit NYC on a regular basis and we'll be sure to stay again
Always a pleasure to stay at the Empire. Friendly staff, reasonable rates, rooms have plenty of space, are clean and well-maintained. Starbucks in bldg and some great restaurants across the street. Upper west side location is perfect for us (steps to #1 train and Lincoln Center, 5 min walk to Columbus Circle with shops., restaurants and more subway connections). We often drive to NY and the hotel is very easy to get to with lots of parking choices nearby.
Location location location! The famous site of gossip girl filming, this hotel has some really neat history and a great vibe! Adam & Chorten were fabulous at check in! Room is nice and clean and has a great view. Rooms are also fairly big for nyc which is a nice plus. The famous rooftop bar has delicious drinks, food and an amazing view of the city too!
The Empire Hotel did not disappoint! It's just across from Central Park, close to great restaurants, coffee and pastry shops and within walking distance from many of the iconic New York City sites. We had no issues checking in, even though it was extremely busy on marathon weekend. We enjoyed drinks in the rooftop bar: what a view! The service was great. All of the staff were very pleasant and helpful. The decor was colorful and glitzy, just like you would expect. The room was comfortable, with soft robes and slippers waiting for us after a long day of travel. Though the city outside was a bit noisy, we did not notice it inside, in fact, we had no disruptions the entire night. I enjoyed a coffee and pastry in a quaint little park while just across the street, sitting at one of the bistro tables. Though our stay seemed much too short, we will certainly return again! Thank you Empire Hotel for making a quick girls getaway very memorable.
We have now stayed at the Empire twice. Both times the service has been exceptional. Rooms were spacious, clean, with beautiful views. Conveniently located near Central Park. We met a kind gentleman named Tommy who was so friendly and went out of his way to make our stay comfortable. Tommy was available to help us with our needs and we now consider him a family friend. Our daughter moved to NY and we now consider the Empire our second home.
This hotel was in the perfect location for us. We were able to get to Times Square, Central Park and Pier 83 easily and cheaply. When traveling with two kids this is a must. As soon as we pulled up there was a bellman ready to get our bags from the car and give us directions to the closest parking garage. This hotel is traditional and full service. You don't have to lift a finger. There is a very small pool on the roof which came in handy because we were in New York during a heat wave. The roof top bar was nice with good views. Just wish we could have sat outside but there was a storm the day we had time to go so it was off limits for safety. We would stay here again anytime. We liked this hotel for it's character and staff. The traditional feel was great which can be lost when staying in a chain hotel.
Perfect place with a great rooftop terrace. Staff is very friendly and always tries to help you. They do anything to make you enjoy your stay.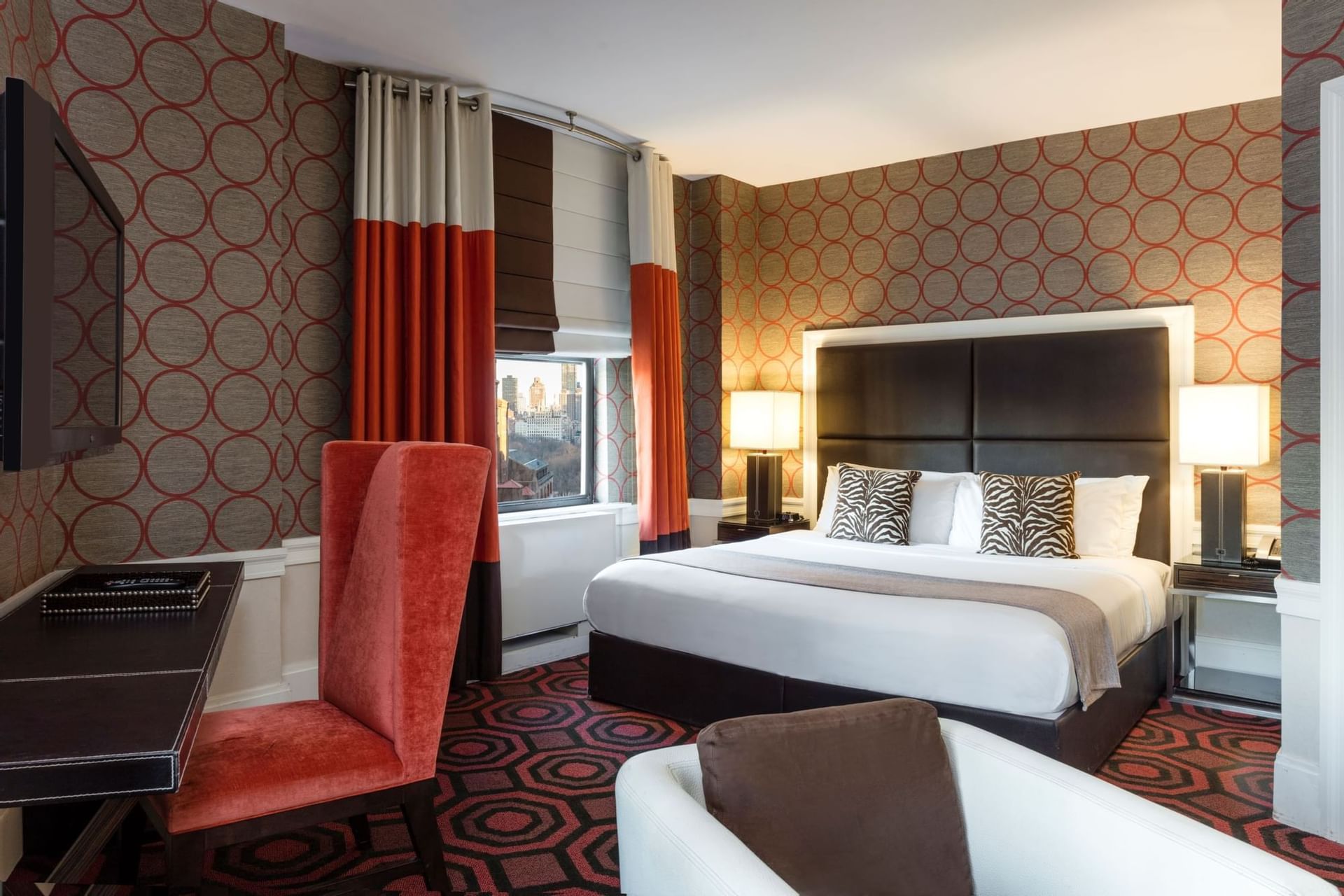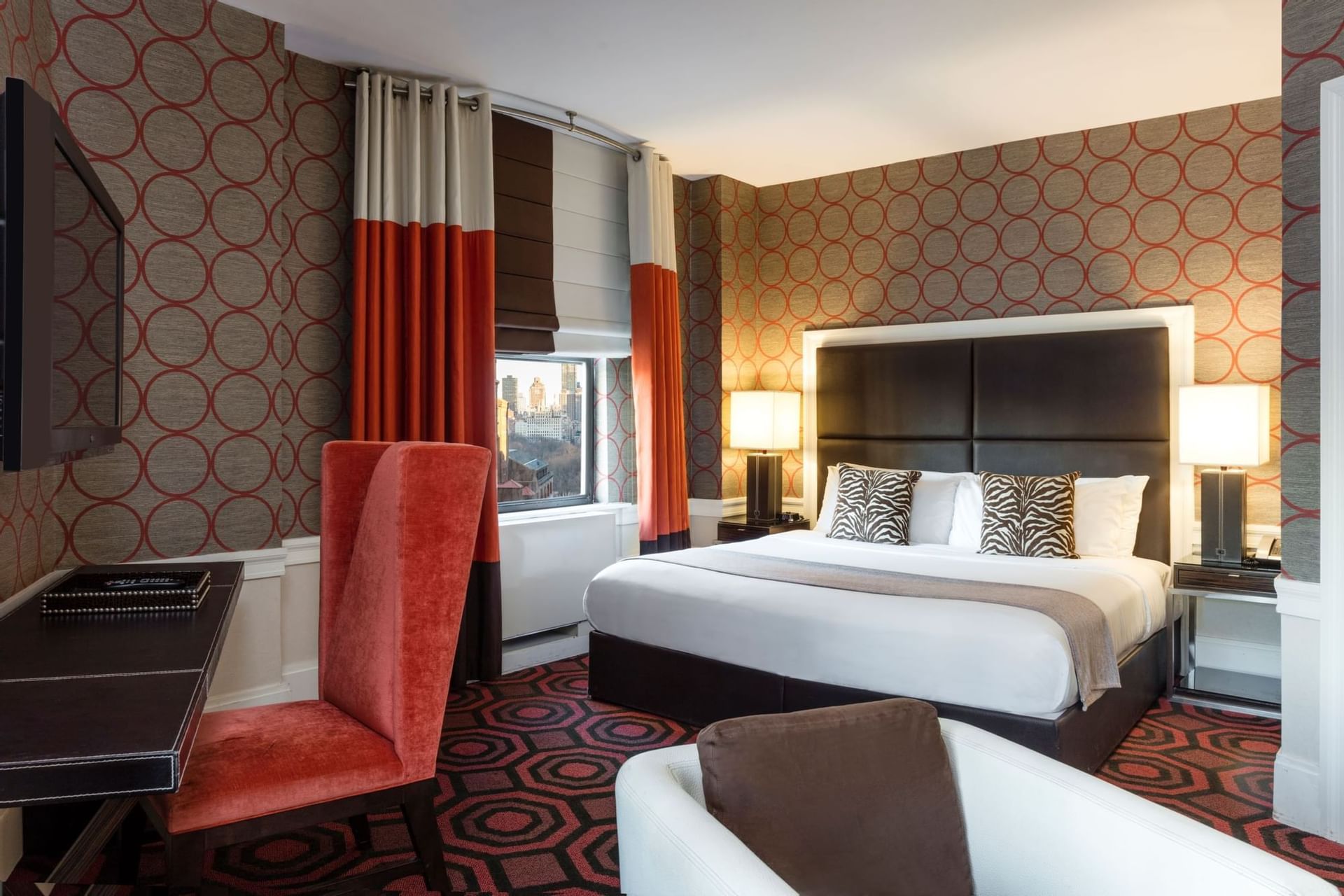 Read More Reviews
Visit our TripAdvisor page to read more guest feedback.